---
Dr. Sonya Gannon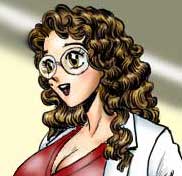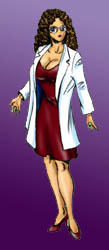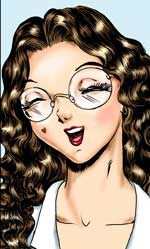 One of the most influential scientists who have ever lived; although you'd be hard pressed to find anyone who can name one of her accomplishments, so secret is most of her work. Sonya has no one specialty, having graduated from four universities with four doctorates in four disciplines: medicine, physics, biology, and (just to p--s people off) liberal arts. (She actually graduated with her doctorate in medicine at the age of 17, but was prevented from fulfilling her internship and getting her license because of minimum age requirements.) Now, at the age of 37, she has accomplished what most of her more elderly colleagues could only imagine.
And as if possessing the world's most brilliant mind wasn't enough, Sonya is also one of the world's most beautiful women. She has the look of a woman in her early 20's; her enticing figure is, shall we say, "lushly endowed"; even her glasses seem to somehow enhance rather than detract from her sexy good looks. (She's been featured almost as many times in Playboy as in Scientific American, and isn't shy about displaying her considerable sex appeal.)
One day, a stunningly beautiful blonde student enters her office, bearing a "help wanted" notice Sonya had posted. Tetsuko has come to apply for the position advertised; she proves to be an efficient clerk and an intelligent and quick-witted lab assistant. Sonya and Tetsuko would quickly become friends, despite the sixteen-year age difference. (This friendship would stand them both in good stead when a near-disaster looms...)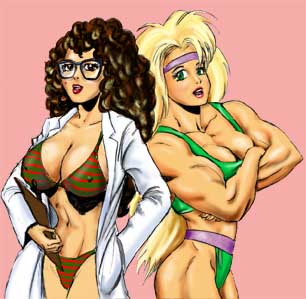 One reason why Sonya is able to accomplish so many seeming miracles is her HyperLab: a capacious laboratory that exists in a different dimension, where time passes differently than in "our" dimension. She uses the HyperLab to work on her most secret, security-sensitive projects, where she is safe (for the moment, anyway) from detection by those who'd pervert her work for evil purposes.
And if you're curious about the inspiration behind the creation of Dr. Sonya Gannon... well, here's the shameful truth.
Speaking of evil purposes...
---
Hamilton Slade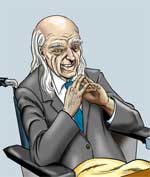 Though he vehemently denies it, it is general knowledge that Slade is the power behind the underworld, the top crime boss. Elderly and wheelchair-bound, Slade looks as though he'll kick off at any second, and indeed his doctors only give him a few more months to live, though he suffers from nothing more serious than advanced age (some speculate he's pushing 95 years old). But Slade has learned of Dr. Sonya Gannon and the research she's done into halting and possibly reversing the aging process; he decides he'll have that serum no matter what he has to do to get it. Even if testing the serum means the death of Sonya's pretty assistant...
---
David C. Matthews /"DCM Studios" Home Page
---
©1998 David C. Matthews
---