---

By special arrangement with Outside Comics publisher Charles Treadwell*
Here's something I've wanted to post to the site for some time - the issues of Maxwell Madd and His Wrestling Women! I worked on with my good buddy Charles Treadwell. I'm actually not that big a fan of women's wrestling (or pro wrestling in general), but I treated it as a, shall we say, "specialized" form of the kind of "action female" stories I am fond of; and of course I enjoyed the humor and wit that Charles infused his stories with. The two major influences on MMWW would have to be Mexican women's wrestling movies like "Doctor of Doom" and "Wrestling Women vs. the Aztec Mummy" which involved women wrestlers in feats of derring-do against mad scientists and their monster cohorts; and the classic TV series "G.L.O.W." (Gorgeous Ladies Of Wrestling).
"G.L.O.W." was actually very instrumental in getting MMWW published. The genesis of the idea to do a wrestling-women comic came when Charles contacted the owners of the property in an attempt to get them interested in producing a comic book featuring the "G.L.O.W." girls. So we produced four pages of comics, written by Charles and illustrated by yerz trooly, with which to pitch the series. You can read those pages here! (unless the current owners of the property make me remove them). But a misunderstanding over who would be paying who to do the comic (we wanted them to hire us to package the comics for whoever wound up publishing them; they wanted us to pay them to publish them) aborted the project; whereupon Charles took the concepts he'd added, created original characters (well, he let me create one), stirred in the idea of "wrestling women vs. classic movie monsters" and and came up with... well, read for yourself.
*"Special arrangement" consisted of me asking him, "Hey is it OK if I post Maxwell Madd to my website?" and him saying, "Sure, go ahead."
---
Miscellaneous Titles
Here's where you'll find stories and pages that don't fit the other categories; because they don't feature a recurring character, or are a "stand-alone" story (or both).

Our first entry in this category is an 8-pager done on commission in 2000. The client has the original, unaltered work; what you see here was slightly modified, and certain character names have been changed to protect me! (Yes, it's based on a familiar TV show.) So now, clicking on that illo below will "instantly" (depending on your modem speed) whisk you to the studios of A Certain Radio Station in Cincinnati...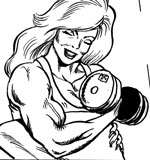 ---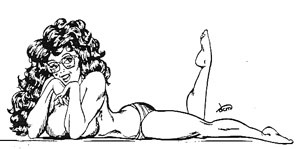 The character of Dr. Sonya Gannon, who appears in the Tetsuko series, did not spring fully-formed solely from my imagination. She is, indeed, an homage to a character I did not create, but spent quite a few hours drawing in the late 1980's - early '90's... Dr. Sonya Beta, the mascot of the Orlando chapter of a nationwide anime club. Dr. Beta's story can be found here, and an unfinshed comics adventure, "The Adventures of Dr. Sonya Beta and Beta Max" is now available. (The first page is Not Safe For Work, but after that you're probably OK.)
---
© 2003 David C. Matthews